Au Temps des Cerises
Françoise et Joseph Houelle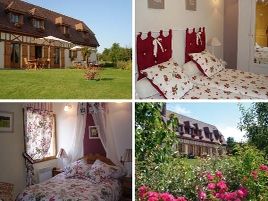 In the heart of the Boucles de la Seine Normande regional park, the Temps des Cerises is a recently-built house in Normandy style, not far from Jumièges. The self-contained rooms are comfortable and tastefully decorated in gay colours, with a 'cherry' theme and named after cherry varieties. Hearty breakfasts with local specialties. Family-style cuisine with the emphasis on local cider and camembert. Easygoing, considerate welcome..
Restaurant (Menu 25 (boissons comprises) €)
Specialties : flan de courgette au Camembert, pintade au Cidre, pomme frangipane et caramel au beurre salé...

To see / to do
l'Abbaye de Jumièges, la route des abbayes, le Château du Taillis, le parc naturel régional des Boucles de la Seine Normande, la côte d'Albâtre, Rouen, abbaye de saint Georges de Boscherville , abbye de saint wandrille en rancon , route des chaumières

Collections nearby
- golf de Jumièges-Le Mesnil à 1,3 km. - pêche en étang à 1 km. - séjour Randonnée.
Website
| | |
| --- | --- |
| Accommodation | 4 rooms |
| Room 1 | Chambre 1 64 EUR per night |
| Room 2 | Chambre 2 64 EUR per night |
| Room 3 | Chambre 3 64 EUR per night |
| Room 3 | Chambre 4 64 EUR per night |
| Additional information | 4 rooms with shower, WC and TV. 50 euros (1 pers.), 60 euros (2 pers.). |
| Children activities | Baby equipment, children's meals. |



Welcome : l'accueil est à l'image des propriétaire, chaleureux et discret
Room : la chambre est accueillante, claire, calme, propre et confortable. entrée indépendante très pratique
Breakfast : les deux options sont parfaitement adaptées, variées et régionales; un goût de caramel beurre salé me rappelle de revenir au plus vite
Information : nos hôtes nous ont conseillé de nombreuses balades afin de découvrir cette région et nous devons encore en faire de nommbreuses





Welcome : Acceuil chaleureux et attentif des mon arrivee a la maison. Francoise & Joseph Houelle vous mettent imnediatement a l'aise et sont tres attentifs a vos besoins.
Room : Chambre tres confortable decoree avec beaucoup de gout et la salle de bain est tres bien equipee pour les personnes avec handicap physique. Proprete exceptionelle et literie tres comfortable.
Breakfast : Petit dejeuner tres tres copieux.
Information : Visite de Rouen obilgatoire. Abbayes a visiter et promenades tres accessibles pour des personnes a mobilite reduite.
Meals : Que dire.... Apres avoir goute la cuisine de Francoise Houelle, il est difficile de mieux manger ailleurs. Cuisine maison fine superbe a un tarif tres raisonnable pour entree, plat principal,fromages,dessert et vin ou cidre. .

Write a review !
Did you stay in this B&B ? Tell us your thoughts ! by filling in the form below. Your feedbacks are valuable to others !
Add a review (* : mandatory fields)
Du centre de jumieges diection base de loisir , golf D65 rouler 2km 5 au temps des cerises vous attend
Yvetot, located at 25 km.
The closest station is
ligne 30 rouen jumieges, the station/stop is about 25 km.
The closest bus is
The closest airport is Rouen , to 40 km.
Latitude : 49.419322 ; Longitude : 0.828191
sentiers de randonnée (pédestre ou équestre) sur place, prêt de cartes ou topo-guides, transport des bagages vers l'hébergement suivant, pique-nique 10 euros, collation offerte à l'arrivée des randonneurs. AUTRE : pour 3 nuits réservées, un repas offert par personne.
Golf de Jumièges-Le Mesnil to 1 kilometer
at 3 kilometers
at 1 kilometer
at 0 kilometers
at 1 kilometer
at 50 kilometers
Coordinates
Bed & Breakfast in JUMIÈGES - Au Temps des Cerises - Françoise et Joseph Houelle
Address: 924 route du Mesnil - 76480 - JUMIÈGES
Phone: +33 (0)2 35 37 38 67 ou +33 (0)6 61 17 38 67
GPS coordinates: Latitude : 49.419322 - Longitude: 0.828191